The pipe is a race version stainless steel TwoBrothers Racing exhaust pipe, from before they started using tapered pipes for the headers. It's stainless steel entirely except for the can, which is aluminum with stainless caps.
The can is round, 4" in diameter.
It comes with all the springs to hold it together, but not the bracket that holds the can to the rear peg. (or whereever it mounts) I called Two Brothers and they told me I could buy a bracket directly from them for $14.
It's currently not packed with glass, but I've got the glass and the rivets and will pack it if you don't want to do it yourself.
More pics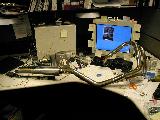 whole thing